The 2017 Honda Ridgeline Release Date is Quickly Approaching
Recently introduced at the North American International Auto Show, the 2017 Honda Ridgeline is a new midsize pickup that is back and better than ever. We can expect the 2017 Honda Ridgeline to have a release date in the first half of 2016.
Why it Stands Out
The Ridgeline is the entry pickup for the Honda line, and it stands out with neat, innovative tech like an in-bed audio system. There is also an in-bed trunk for optimal cargo storage. With a carefully constructed engine, the Ridgeline has unique performance for its class.
Powertrain and Chassis
The Ridgeline has the best handling abilities in its class segment because it has a 3.5L engine with a 6-speed automatic transmission, a uni-body design, traction controls for all weather types, a refined and lightweight, yet stiffened, chassis for a mid-size pickup, and a torque distributing system with all-wheel drive. Additionally, the vehicle is expected to have top fuel economy ratings for its segment.
Versatility and Tech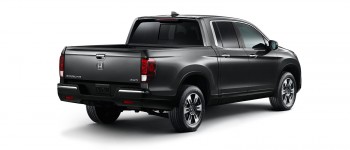 The all-new Ridgeline has the most amount of space for its class from a four foot wide flat bed, making it easy to haul complexly shaped and heavy objects. It also has a roomy cabin to bring five passengers along as well as a 60/40 splitting design that lets you customize interior space as needed. There is also cargo space underneath the rear seat. With the rear seat folded, you can still bring tall items. Plus, the cabin is sealed with noise defying technology, so you can enjoy the quiet, more of your music, or a great conversation.
Listen to your music in the cabin or outside, with an in-bed audio system with 540 watts. Your phone can easily connect to Apple Car Play or Android Auto as well. Cabins also come with tri-zone climate control to make all passengers comfortable.
Visit Harmony Honda
The 2017 Honda Ridgeline has an expected release date for the first half 2016. To see trucks in our inventory in the meantime, our showroom is located on 2550 Enterprise Way in local Kelowna. To send us a message or check our hours and phone number, visit our contact page.