2015 Honda Civic Sedan vs 2015 Mazda Mazda3
2015 Honda Civic Sedan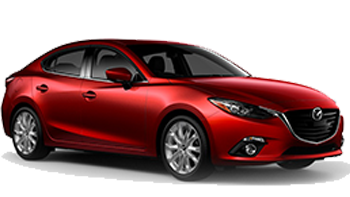 2015 Mazda Mazda3
Are you thinking of upgrading to a new, efficient compact sedan with the latest technology? The 2015 Honda Civic and the 2015 Mazda Mazda3 are both leading choices in that segment, and both will no doubt please most drivers. Of course, there are some major differences, and we're here to fill you in on what makes one of these cars the obvious choice for drivers in the Kelowna area. Take a look at how the base models of these two sedans compare below.
Features and Amenities
When it comes to other features and safety, the 2015 Honda Civic beats out the 2015 Mazda Mazda3 again. The Honda starts at $245 less than the Mazda3 in the base trim. It also comes with features like auto delay off headlamps, a tachometer, and the unique Honda driver convex spotter mirror that helps you see other vehicles in your blind spot.
Passenger and Cargo Space
The Honda Civic is also the ideal vehicle when it comes to space for passengers and cargo. The Civic Sedan offers 919 mm of rear legroom, while the Mazda3 only delivers 909 mm. This gives passengers a bit more space to stretch out. Drivers also have more front headroom with the latest Civic Sedan from Honda. Passengers in the front seat can enjoy 992 mm of front headroom. The Mazda3 is a little more cramped at 981 mm. Additionally, the Honda Civic offers more room in the trunk with a total of 353 liters of cargo volume, while the Mazda3 only provides 350 liters.
Visit Harmony Honda Now
If you're in the market for a new compact car that offers premier features, comfort, efficiency, and safety, then come drive the new 2015 Honda Civic here at Harmony Honda. We think that the Honda Civic is the clear choice over the Mazda3, and since the Civic is more affordable and comes in many more configurations, including coupe, Hybrid, and high-performance trims, there's definitely one to suit your needs in our inventory. We're at 2550 Enterprise Way in Kelowna, BC V1X7X5, so visit us today!